Brand Name: TIANYANG
Type: High speed centrifugal spray dryer
Model: LT-Series
Max. Water Evaporation Capacity: 5-3000kg/h
Spray Type: High speed centrifugal atomizer
Drying Time: According to customer requirements.
Applications: Medicine Processing, biological, food, medicine, etc.
Warranty: One year

Product Description
LT series high speed centrifugal spray dryer is a new type of high-efficiency drying process equipment, which can make solutions, emulsions, suspensions, and paste liquid materials through spray drying into dry powder, fine and medium particles.
LT series high speed centrifugal spray drying machine has fast drying speed, high efficiency, few processes and labor saving. The product quality is stable, and the finished product has good fluidity and good solubility after drying. It has the advantages of high purity and good environmental sanitation. It is beneficial to increase the output and obtain good process technology and economic benefits.
LT series high speed centrifugal spray drying equipment is especially suitable for heat-sensitive materials, drying can keep the color, aroma and taste of the dried materials unchanged. It has a bright future in chemical, fine chemical, light industry, ceramic materials, electronics, food, biology, Chinese and Western medicine, biochemistry, environmental protection and other industries.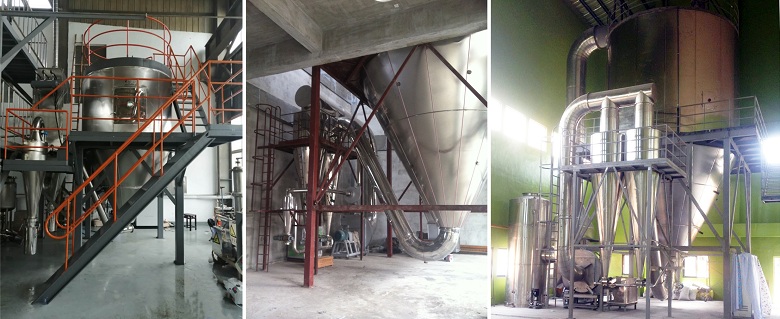 Main Features
* Drying speed is very fast;
* Product quality is good;
* Product has good dispersibility, fluidity and solubility;
* Production process is simplified, easy to operate and control;
* The air drying chamber wall of the drying chamber is used to eliminate or reduce the stick wall phenomenon;
* Drying chamber wall and roof top adopt air cooling system to prevent material from melting hot wall;
* The powder collection system uses dehumidification air cooling technology to prevent moisture absorption and agglomeration of the product and facilitate product packaging;
* Meets the requirements of GMP national standards, and the air cleanliness of contact with materials reaches.
Types of Dry Products (Parts)
| | |
| --- | --- |
| * Polymers and resins | * Tannic acid |
| * Dyes, colors, pigments | * Non-staple food, blood and fish products in slaughterhouses |
| * Ceramic materials, glass ceramic sand | * Detergents and surface stains |
| * Rust remover fungicides insecticides | * Ingredients |
| * Carbohydrates and similar products | * Organic chemicals |
| * Dairy and eggs | * Inorganic chemicals |
| * Food and plant extracts | * Cellulose |
| * Chinese and Western medicines, biological fermentation products | * By-products and other sundries, etc |
Technical Parameter
Model

LT High Speed Centrifugal Spray Dryer

Max. Water Evaporation Capacity (kg/h)

5

25

50

100

150

200

300

400

500

600

1000

1200

2000

3000

Inlet Temperature (℃)

140-350 ℃

Out Temperature (℃)

80-90 ℃

Spray Type

High Speed Centrifugal Atomizer

Atomization Rotated Speed (RPM)

25000

18000-22000

15000-22000

12700

11800

Spray Disc Diameter (mm)

60

120

150

180

210

Heating Sources (Option)

Oil, natural gas, coal gas, liquefied gas, marsh gas, coalmine, steam, electricity, etc.
Remarks: Water evaporation capacity depends material property, solidcontent, warmairinlet & outlet temperature.