Brand Name: TIANYANG
Type: High speed centrifugal spray drying machine
Model: LT-Series
Max. Water Evaporation Capacity: 5-3000kg/h
Spray Type: High speed centrifugal atomizer
Drying Time: According to customer requirements.
Applications: Medicine Processing, biological, food, medicine, etc.
Warranty: One year
Product Description
On the basis of introducing foreign advanced drying technology, Wuxi Tianyang Drying Equipment Co., Ltd. cooperates closely with many domestic scientific research institutes to develop and produce various types of domestic leading high speed centrifugal spray drying equipment by itself.
The LT series high speed centrifugal spray drying machine for powder produced by our company has passed the appraisal of new products in Jiangsu Province, China. It is a drying equipment specially introduced by the Product Quality Inspection Center. It is also a special equipment company designated by the Ministry of Chemical Industry to manufacture high-speed centrifugal spray dryers.
Working Principle
The working principle of LT series high speed centrifugal spray drying machine for powder is that after the air enters the heating device through the filter, it enters the hot air distributor at the top of the drying chamber, and the hot air passing through the hot air distributor enters the drying chamber evenly and rotates in a rotating manner. At the same time, the material liquid is sent to the high-speed centrifugal atomizer at the top of the drying chamber, and the material liquid is atomized into extremely small mist droplets by the centrifugal atomization disc. It can be dried into powdered granules in a short period of time, that is finished products.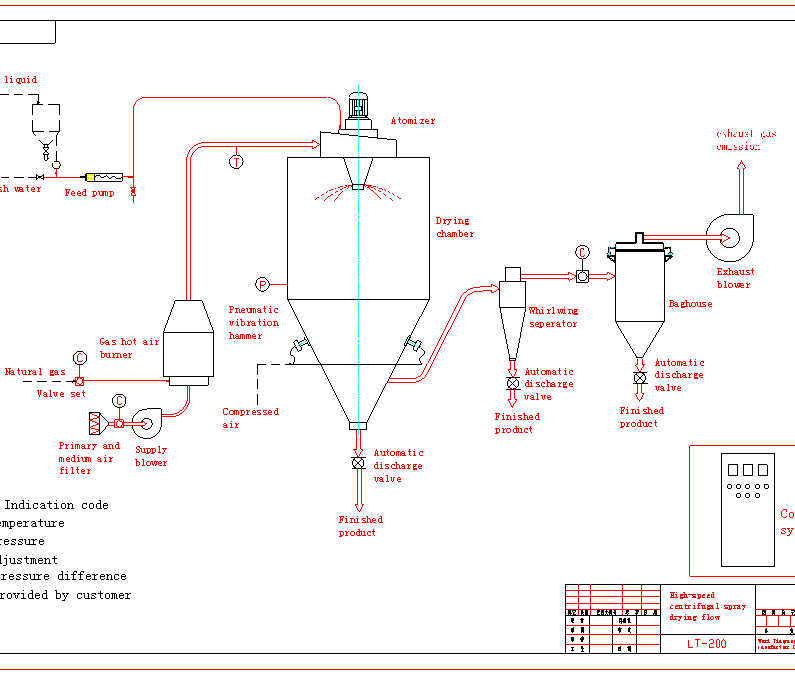 Main Features
* Drying speed is quickly.
* The final product quality is better.
* The product has good dispersibility, fluidity and solubility.
* The production process is simple and the operation and control are convenient.
* Air jacket cooling system is used on the drying chamber wall and roof to prevent the material from being melted and hung on the wall.
* The inner wall of the drying chamber adopts an air rotary purging system to reduce the phenomenon of sticking to the wall.
* According to user requirements, the products can meet the requirements of GMP national standards.
Technical Parameter
Model

LT Series High Speed Centrifugal Spray Drying Machine

Max. Water Evaporation Capacity (kg/h)

5

25

50

100

150

200

300

400

500

600

1000

1200

2000

3000

Inlet Temperature (℃)

140-350 ℃

Out Temperature (℃)

80-90 ℃

Spray Type

High Speed Centrifugal Atomizer

Atomization Rotated Speed (RPM)

25000

18000-22000

15000-22000

12700

11800

Spray Disc Diameter (mm)

60

120

150

180

210

Heating Sources (Option)

Oil, natural gas, coal gas, liquefied gas, marsh gas, coalmine, steam, electricity, etc.
Remarks: Water evaporation capacity depends material property, solidcontent, warmairinlet & outlet temperature.