Brand Name: TIANYANG
Type: Lab Scale Spray Dryer
Model: LT-5
Material: SUS304, SUS316L, Ti
Max. Water Evaporation Capacity: 5kg/h
Heating Method: Electric heating
Applications: Chemicals processing, food processing
Warranty: One year
Product Description
The spray volume is 1-5 kg/h. Utilizing the frequency control centrifugal atomizer, the LT-5 lab scale spray dryer for powders can dry materials such as solutions, emulsions, suspending liquids and paste liquids into powders. Fixed or movable structure is alternative, and it is flexible and convenient with high speed and high efficiency. It is suitable to heat-sensitive materials.
LT series lab spray dryer has been used in enterprises, colleges and universities, scientific research institutions and other industries. According to the characteristics of different products of users, it can explore the ideal process conditions of its spray drying through experiments, which has laid a solid foundation for the industrial production of products.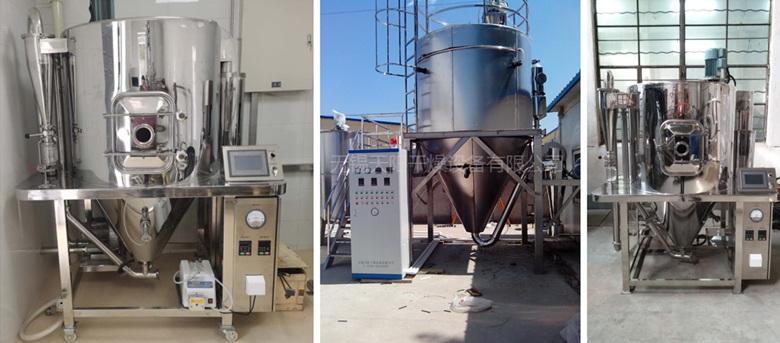 Working Principle
After being sent into the centrifugal atomizer by a feed pump, the freed liquid is then atomized into droplets. Heat-exchange carries out between the droplets and hot air, and material is dried into powder in a very short time. powder is collected by a barrel at the bottom of the tower or cyclone separator. LT-series lab scale spray drying machine is an ideal device to dry feed liquid into powder for one-time continuous production.
Technical Specifications of Lab Spray Drying Equipment
| | |
| --- | --- |
| Model | LT-5 |
| Material | SUS304, SUS316L, Ti |
| Inlet Temperature (℃) | 140-350℃ |
| Out Temperature (℃) | 80-90℃ |
| Max. Water Evaporation Capacity (kg/h) | 1-5kg/h |
| Applications | Chemicals processing, food processing, etc. |
| Transmission Form of Centrifugal Spray Head | Compressed air drive |
| Atomization Rotated Speed (RPM) | 25000 |
| Spray Disc Diameter (mm) | 50 |
| Heating Method | Electric heating |
| Electric Heating Maximum Power (KW) | 18Kw |
| Dimensions (L×W×H) mm | 1601*1500*1801 |
| Dry Powder Recovery | ≥95% |
Key Features
* Short drying time, suitable especially for thermal sensitive material and high viscosity material like medical concentrate.
* Easy operation, convenient adjusting, easy to disassemble and clean.
* Various particle size available by adjusting the spray rpm, spray disc, liquid concentrate and air etc.
* Can get various final moisture by adjusting the spray volume and outlet air temp.
* Multiple dust collector used to ensure no material loss.
Application Drying Material
| | |
| --- | --- |
| Industry | Drying Material |
| Chemical Industry | Sodium (potassium) fluoride, basic dyestuff, amino acid, catalyst, dye intermediate, compound fertilizer, white carbon black, etc. |
| Plastic Resin | AB, ABS emulsion, urea resin, phenolic resin, PE, PVC, etc. |
| Food Industry | Oats, coffee, instant tea, flavoring, protein, hydrasate, soybean protein, Peanut protein, etc. |
| Sugar | Corn speep liquor, corn starch, glucose, pectin, maltose, potassium sorbate, etc. |
| Ceramic Industry | Aluminum oxide, tile material, magnessium oxide, talcum powder, etc. |