Brand Name: TIANYANG
Type: Biological Pesticide Spray Dryer
Model: LT-25
Material: SUS304, SUS316L, Ti
Max. Water Evaporation Capacity: 25kg/h
Heating Method: Electricity + steam, fuel oil, gas, up to the user.
Applications: Biological products, medicine processing, chemicals processing, plastics processing, food processing, etc.
Warranty: One year
Product Description
LT Series high speed biological pesticide centrifugal spray drying equipment is a new centrifugal spray dryer researched and developed successfully by our company according to china's actual conditions after absorbing and digesting internationally advanced technology. It has features such as reasonable structure, stable performance, convenient operation, no dead corners, and no exposed bolts.
LT-25 biological pesticide spray drying machine adopts Plc automatic control. All operations are completed automatically according to the process parameters set by users. It fully meets the requirements for biological pesticide production in GMP.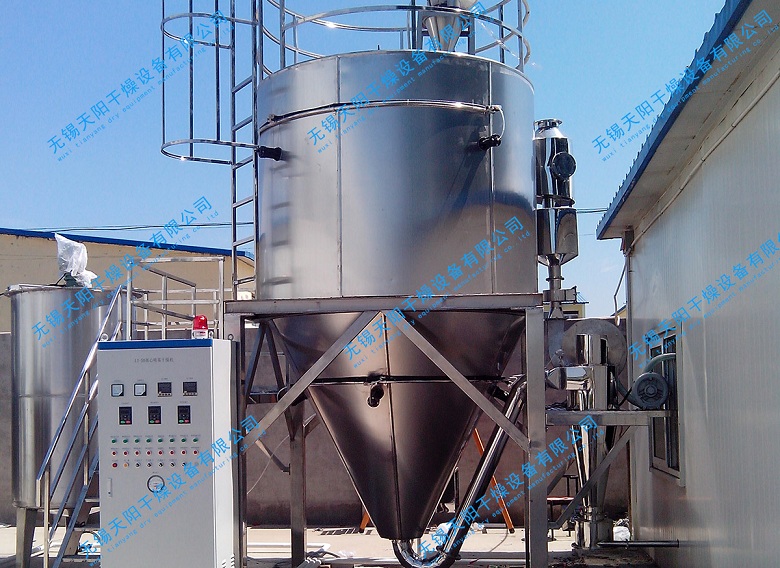 Technical Specifications of Fermented Liquid Spray Dryer
| | |
| --- | --- |
| Model | LT-25 |
| Max. Water Evaporation Capacity (kg/h) | 25kg/h |
| Material | SUS304, SUS316L, Ti |
| Inlet Temperature (℃) | 140-350℃ |
| Out Temperature (℃) | 80-90℃ |
| Spray Type | High Speed Centrifugal Atomizer |
| Applications | Biological products, medicine processing, chemicals processing, plastics processing, food processing, etc. |
| Transmission Form of Centrifugal Spray Head | Compressed air drive |
| Atomization Rotated Speed (RPM) | 22000 |
| Spray Disc Diameter (mm) | 102 |
| Heating Method | Electricity |
| Electric Heating Maximum Power (KW) | 45 |
| Dimensions (L×W×H) m | 3×2.7×4.26m |
| Dry Powder Recovery | ≥95% |
Main Features
1.LT biological pesticide centrifugal spray dryer with fast drying speed can constantly evaporate 95%-98% moisture.
2.This spray drying machine has excellent uniformity, liquidity and solubility as well as high purity.
3.This spray drying equipment has simple production process and easy operation. After drying, it does not need to grind and screen, which can reduce production procedure and enhance the purity.
Application Field
* Pharmaceutical Industry: Including all kind of Active Pharmaceutical Ingredients, chinese medicine, chemical medicine, etc.
* Chemical Industry: Potassium chloride (sodium , alkaline dyes and pigments, dye intermediate, compound fertilizer, formaldehyde silicic acid, catalyst, sulfuric acid agents, amino acid and white carbon black, etc.
* Plastic resin: AB, ABS emulsion, urea resin, phenolic resin, polyethylene, polyvinyl chloride, etc.
* Food industry: Rich fat milk, cocoa milk powder, milk replacer, pig blood powder and egg white (yolk), etc.
* Food and Plant: Oat, chicken liquid, coffee, instant tea, flavoring meat, protein, soybean, peanut protein and hydrolysate, etc.
* Carbohydrate: Corn steep liquor, corn starch, glucose, pectin, malt sugar, potassium sorbate and so on.