Brand Name: TIANYANG
Type: Pressure Spray Granulation Dryer
Model: YT-Series
Material: SUS304, SUS316L
Max. Water Evaporation Capacity: 12.5-2000kg/h
Heating Method: Electricity + steam, fuel oil, gas, up to the user.
Applications: Ceramics, magnetic materials, new energy materials, new metal materials, chemicals, etc.
Warranty: 1 year
After-sales Service Provided: Engineers available to service machinery overseas.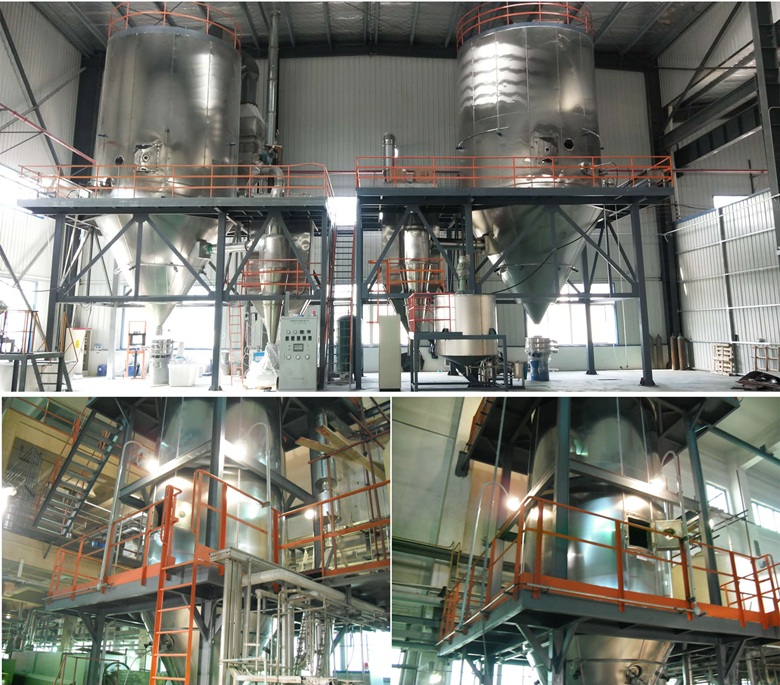 Product Description
YT series automatic high-efficiency, energy-saving and environmentally friendly cocurrent flow pressure spray granulation drying equipment is to input materials such as solution, suspension, emulsion, paste and paste through a high-pressure pump high-pressure input nozzle, spray mist droplets, and rise like a fountain. , and then the solid and water are separated and dried by heat exchange with hot air to obtain granular products. According to the process requirements, the pressure of the liquid pump and the size of the flow orifice can be adjusted to obtain the required spherical particles according to the size ratio, and can also obtain larger diameter particles.
YT series co-current pressure spray granulation dryer has been used in electronic ceramics, precision ceramics, architectural ceramics, magnetic materials, new energy materials, metal materials, pharmaceuticals, biology, food, fine chemicals and other industries that have special particle requirements for materials. For pressure spray granulation, the particle size distribution requirements can be adjusted to an excellent distribution curve value, and its main technical performance and indicators can reach a relatively advanced level, realizing the automatic control of the overall equipment, energy saving and environmental protection.
Main Features
1. Fast drying speed;
2. The obtained product is spherical or apple-shaped spherical particles with uniform particle size, good fluidity and solubility. The product has higher purity and better quality;
3. Wide range of use, hot air drying, granulation, cold air granulation, spray crystallization, spray reaction, etc.
4. The operation is simple and convenient, the control is stable, and it is easy to realize automatic operation. The particle size, bulk density and water content of the product can be adjusted within a certain range.
5. According to different materials, the pressure spraying method of co-current (spraying from top to bottom) or counter-current (spraying from bottom to top) can be used.
Technical Parameter
Model

YT-series Pressure Spray Drying Granulator

12.5

25

50

65

100

150

200

300

400

500

600

800

1000

1200

2000

Max. Water Evaporation Capacity (kg/h)

12.5

25

50

65

100

150

200

300

400

500

600

800

1000

1200

2000

Inlet Temperature (℃)

140-550℃

Out Temperature (℃)

80-160℃

Spray Type

Pressure Nozzle

Heating Sources (Option)

Oil, natural gas, coal gas, liquefied gas, marsh gas, coalmine, steam, electricity, etc.

Remark: Moisture steam output is related with material 's property, solid content and hot air entrance-exit temperature