Brand Name: TIANYANG
Type: Centrifugal Spray Granulation Dryer
Model: LX-15
Material: SUS304, SUS316L
Max. Water Evaporation Capacity: 15kg/h
Heating Method: Electricity + steam, fuel oil, gas, up to the user.
Applications: Ceramics, magnetic materials, new energy materials, new metal materials, chemicals, etc.
Warranty: 1 year
After-sales Service Provided: Engineers available to service machinery overseas.
Product Description
LX-series piezoelectric ceramic centrifugal spray granulation dryer is a kind of continuous atmospheric dryer. Use special equipment to spray liquid into fog, make its contact with the hot air drying. Used for drying of some heat-sensitive liquid, suspending liquid and viscous liquid, are by far the most elected to solid extraction equipment, used in ceramic, electronics and carbide spherical particle materials, ferrite, etc have special requirements.
LX-Series piezoelectric ceramic centrifugal prilling spray drying equipment has been widely used in mass production, the wide application of the industry by the public to solution can be obtained directly after several seconds into the spray drying equipment ball smooth, uniform particles of powder, the province, energy saving, good quality and convenient!
* Fast drying and quickly (instantaneous drying: in 30 seconds or so), while the temperature of the drying medium is quite high, but material from overheating phenomenon;
* Dry material has a spherical granules state, can be pressed to be made into finished products to do.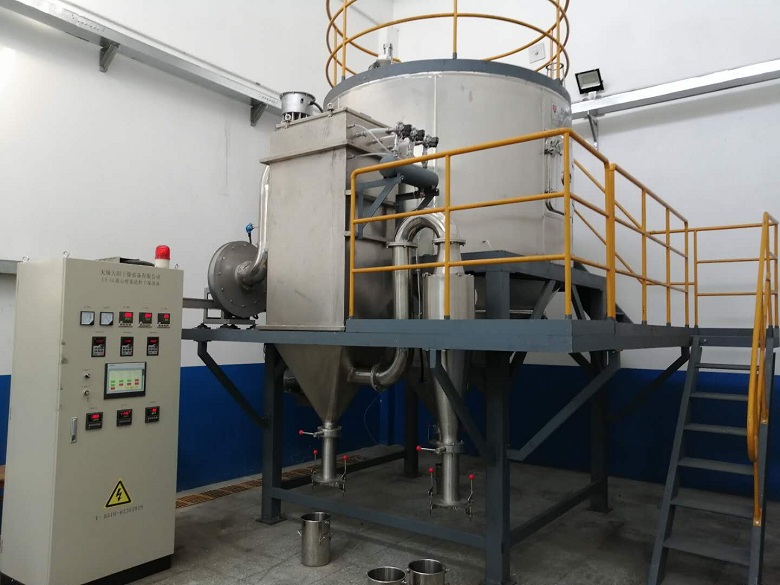 Technical Parameter
| | |
| --- | --- |
| Model | LX-15 |
| Max. Water Evaporation Capacity (kg/h) | 15kg/h |
| Material | SUS304, SUS316L |
| Inlet Temperature (℃) | 230-350℃ |
| Out Temperature (℃) | 90-150℃ |
| Spray Type | High Speed Centrifugal Atomizer |
| Applications | Electronic material, ceramics, magnetic materials, new energy materials, new metal materials, chemicals, etc. |
| Atomization Rotated Speed (RPM) | 0-18000 |
| Spray Disc Diameter (mm) | 55-65 |
| Heating Method | Oil, natural gas, coal gas, liquefied gas, marsh gas, coalmine, steam, electricity, etc. |
Remarks: Water evaporation capacity depends on material property, solid content, inlet & outlet temperature.
Order Requirements
LX-Series piezoelectric ceramic centrifugal spray granulation drying machine is a non-standard set each must according to the requirements of the characteristics of different material, finished product production, heating mode and the local natural conditions. Related to specific as follows :
1. The evaporation capacity and material properties, one is expected to avoid cross contamination.
2. The atomization pressure and pump models equipped with reference to materials processing, product particle size requirements.
3. The fan power increase after the form a complete set of bag filter.
4. Must accomplish configuration reasonable in design and production to do layout is safe, well constructed, for the overwhelming majority of customers with perfect equipment.